EIROforum events

EIROforum Workshop: Big data – from acquisition to data mining
26 Oct 2020

-

29 Oct 2020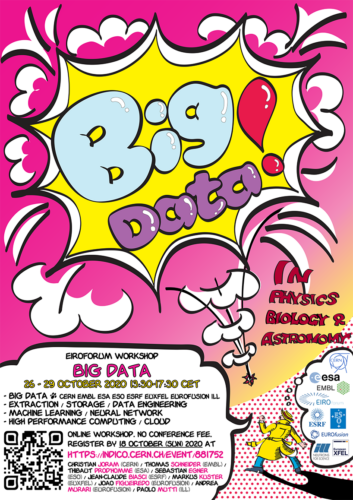 The sheer volume of data, being produced by modern research facilities, requires a new approach for acquiring, storing and analysing data. Traditional methods fail to cope with the amount of data, while novel concepts in machine learning offer exciting new possibilities to obtain more insight and extract knowledge from the data. This workshop will bring together experts in the relatively new field of Big Data from major European Research Facilities, to discuss the current status and future applications in the areas of:
Acquisition, storage and archiving of data,
High-Performance Computing and Cloud,
Machine Learning and Neural Networks,
Data mining.
The workshop will take place as an online event from 26th to 29th October 2020. Registration is now open until 18th October at: https://indico.cern.ch/event/881752/
This workshop is organized by the Instrumentation Working Group of the EIROforum. The European Intergovernmental Research Organisation forum, EIROForum, brings together eight of Europe's largest research organisations. Its members have extensive expertise in the areas of basic research and the management of large, international infrastructures, facilities and research programmes.