EIROforum events

Third Big Science Business Forum Webinar on Technology Transfer
18 Feb 2021 @ 09:30

-

12:45

CET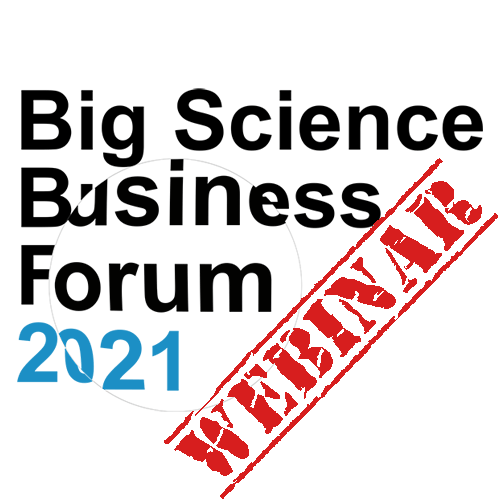 The third Big Science Business Forum Webinar will be held on February 18th, 2021 from 09:30 to 12:45 CET and will be focused on Technology Transfer in the Big Science market, with speakers from academia, F4E, CERN, ESA, EMBL, PERIIA, CDTI, and industry (TBD) participating in the BSBF2021 Technology Transfer Track.
The audience will be able to propose questions to each speaker on real time just after each speaker presentation, and in addition will be able to participate in a real time pool on technology transfer.
Title: "How Industry and Research Infrastructures can innovate the Big Science Market: The BSBF Technology Transfer Track"
Date: February 18th 2021
Time: from 09:30 to 12:45 CET
Speakers:
UPM Big Science – José María Cogollor (TBC)
F4E – Victor Sáez
CERN -Nick Ziogas
ESA – Niels Eldering
EMBL – Juergen Bauer (TBC)
PERIIA – Paolo Acunzo
CDTI – Jorge López Reig
Industry – TBD
​Content: The BSBF Webinal will cover the following topics on Big Science market technology transfer:
Introduction to Technology Transfer in Big Science and how to improve it from academic/ scientific institution to industry – UPM
Interview/Tour the table of Big Science organisations on Big Science technology transfer technology – F4E, CERN, ESA, EMBL, moderated by PERIIA
BSBF2021 Technology Transfer Track: How to participate and apply, step by step – CDTI
Technology transfer from Industry to Research Infrastructures – Industry (TBD)
The final agenda is available for download . Record of the webinar and presentations will be available online after the BSBF Webinar.
For more info on previous and future BSBF webinars, visit the BSBF webinars page.