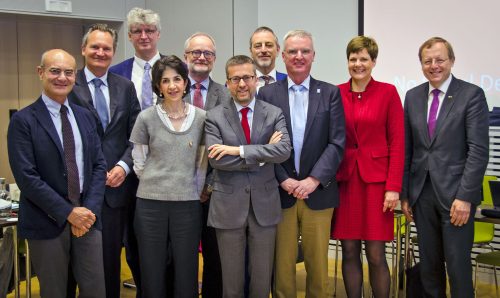 On 11 May, EIROforum's Directors-General assembly met with the European Commissioner for Research, Carlos Moedas, and Director-General for Research and Innovation, Robert Jan-Smits, in Brussels.
Representatives of EIROforum presented their reflections on Horizon 2020, the current EU Research and Innovation Programme. Horizon 2020 runs from 2014 to 2020 and is approaching its mid-term mark. Commissioner Moedas also provided an outlook on Framework Programme 9 (FP9), an EU programme to fund research and innovation beyond 2020.
The Commissioner and the EIROforum Directors also discussed the EC's plans to launch the European Open Science Cloud, a computing infrastructure aimed at creating a trusted environment for hosting and processing research data to support EU science. EIROforum, as the association of the biggest international research infrastructure and services providers in Europe, contributes its insights into the growing demand for computing and networking services and its expertise in running large computing and networking services to the project.