EIROforum events

EUCYS 2011, Helsinki
23 Sep 2011

-

28 Sep 2011

22nd EU Contest for Young Scientists: best young brains battle it out in Lisbon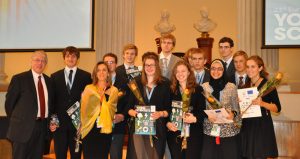 "The future begins with science" was the slogan of the 23rd European Union Contest for Young Scientists (EUCYS), an annual event aiming to encourage young people's interest in science which took place from 23 – 28 September 2011 in Helsinki. The Kattilahalli, an old power plant transformed for cultural projects, hosted more than 130 contestants from 37 countries across Europe and beyond. They presented 87 projects to an international jury. These projects, which had already won first prize in their national contests, covered a broad spectrum of scientific areas: biology, chemistry, computing, social sciences, environment, mathematics, materials, engineering and medicine.
EIROforum is a long-term sponsor of this activity, offering lectures by its scientists, outreach activities and last but not least seven generous prizes for outstanding projects, each consisting of a one-week visit to one of the EIROs. This year's award certificates were handed over by EIROforum Coordination Group Chairman Claus Madsen and Maria Ana Viana-Baptista, President of the jury. The CERN prize was awarded to Florentin Delaine (18), Joseph Gennetay (18) and Jason Loyau (19) from France, for building a robot which can solve the famous Rubik's Cube without further help. Azza Abdel Hamid Faiad (16) from Egypt will visit EFDA-JET as a reward for developing a method to produce hydrocarbon fuels from plastic waste.
The ESA prize went to Andrea Emilio Amedeo Bracesco (19), Jacopo Prinetto (20) and Federica Villa (19) from Italy, who following Kepler's path in estimating the mass of Jupiter by observing four of the planet's satellites. Erica Portony (18) from the USA can look forward to a visit to EMBL for developing a novel method to study the regions of a bacterial protein which is important for the bacteria to attach to kidney epithelial cells in their host.
Jane Cox (17) from the USA will travel to one of ESO sites in the Chilean Andes after impressing the jury with her analysis of the amino acid composition of meteorites to distinguish terrestrial from extraterrestrial rocks. The ILL prize was awarded to Andris Alfreds Avots (17) and Raivis Eglitis (18) from Latvia for developing a fire-resistant thermal insulation material. Last but not least, the winners of the ESRF prize are Michal Habera and Michal Fabian (both 18) from Slovakia for their project on the influence of magnetic field on free-surface ferrofluid flow. Congratulations to all winners – the EIROforum institutes are proudly looking forward to welcome these budding scientists.
Further information on the contest, all prize winners and projects