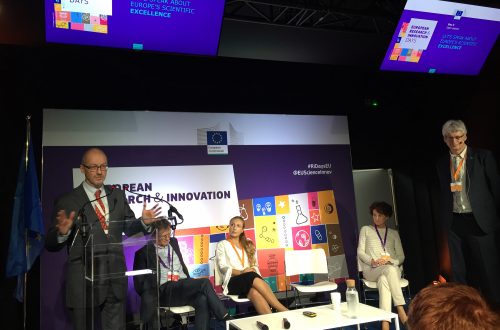 EIROforum was actively present at the EU Research and Innovation Days, held from 24 to 26  September in Brussels. At this event, more than 1000 researchers, academics, business people, decision-makers and parliamentarians from Europe and beyond took part. Among them were representatives of CERN, EMBL, ESO, ILL and XFEL, who went to provide input to the co-design process to shape the priorities and strategic plans of Horizon Europe, due to start in 2021.
Representatives from EUROfusion were present at the policy conference, and programme manager Tony Donné participated in discussions at the 'Euratom Research for All' session. In addition, at the 'Science is Wonderful' exhibition, EUROfusion had a booth to present fusion research to the general public.
Helmut Schober, Director of ILL, and Edith Heard, Director-General EMBL, participated in a panel discussion with the title: "Let's speak about Europe's scientific excellence". The platform served to highlight the benefits of EU funding to the scientists and facilities that have pushed the boundaries on research and innovation, enabling some of humanity's most significant breakthroughs in science, technology and medicine.
"In the last 50 years, we have lived the most outstanding adventure that humans have ever seen, and this adventure is linked to science," said Helmut Schober. "We must fight against the skeptics. To do this, we need the brightest people, stubborn and pushing things forward, and they need the best possible tools as well as an ecosystem that provides them with the right framework to do this. One of these tools is research infrastructures, which have provided these scientists with the best possible place to do their research."
"In addition to infrastructure, people are key to success." said  Edith Heard. In this respect, Marie-Sklodowska-Curie fellowships provide for young talent, for transfer of expertise between labs and of course for training individuals. For the future it would be key to bring together funding for research infrastructures with societal challenges, in particular health. Increasing linkages between molecular biology and translational research will be critical in order to see more impacts like what we see now in the application of basic biological knowledge to create clinically useful treatments or drugs."
Jana Pavlic from EMBL was a panelist in the session entitled: "Bridging, widening, sharing – lets advance Europe together". The key focus of this session was to share experience from EU instruments designed to widening excellence. "I believe that the most valuable aspect of the teaming instrument is the focus on institution building," said Jana. "For Europe to succeed we must work together, help each other and encourage each other to be better and to outdo ourselves – and I see science and research in exactly the same way."
Carlos Moedas, Commissioner for Research, Science and Innovation, said: "The dedication, energy and creativity of the participants in the European Research and Innovation Days are truly inspirational. Their contributions are invaluable for securing the success of Horizon Europe."