EIROforum events

7th EIROforum School of Instrumentation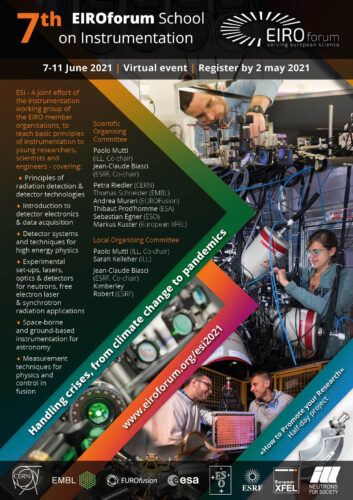 The 7th EIROforum School on Instrumentation (ESI 2021) will take place from 7-11 June 2021 and will be hosted by the Institut Laue-Langevin (ILL).
ESI is a biennial event, jointly organised by the Instrumentation Working Group of the EIROforum organisations, which aims to teach the basic principles of instrumentation to young researchers (PhD students, postdocs) and engineers, mainly from the EIRO organisations. A fraction of the places are reserved for particularly talented (PhD) students from outside the EIRO organisations who work on instrumentation topics.
The scientific programme of ESI addresses all aspects of instrumentation related to the missions of the EIROforum organisations.
Highlight Topic
We are increasingly confronted with complex and challenging scenarios in our day to day lives and recently none more so than the convergence of our two most pressing global health threats — the rapid emergence of the Covid-19 pandemic and the insidiously evolving climate crisis. Both these crises disproportionately harm the health of vulnerable and economically disadvantaged people and demand unprecedented scientific efforts.
This years topic is about handling and managing these modern day crisis, from viruses to global warming, and how we can prevent their dissemination and development.
.